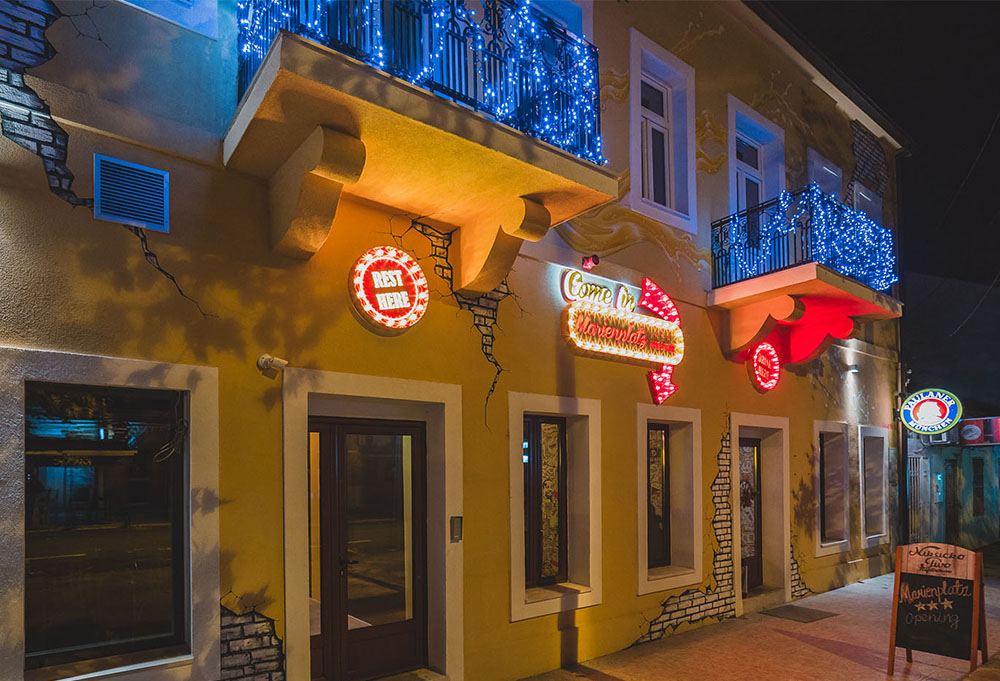 We present to You the newly opened hotel located in the city centre – CRIB & BEER Marienplatz hotel. In our hotel which is designed in the spirit of Munich, you will feel the magic of modern and simple and at the same time, notably different combination of architecture and design. The hotel is located in the very centre of Podgorica, within walking distance of the Montenegrin National Theatre and the National Library. Morača Sports Centre, the main bus and train station are 10 km away. Podgorica Airport is 10km away.


The hotel has 7 accommodation units, 6 double rooms and 1 triple room. Every room is specific, differing by name, wall art and details which complement the theme of each room individually. You can enjoy the view to one of the oldest streets in the centre of Podgorica from the room terrace. Available rooms include Drunk Playroom, Beer Chambers, Mom's alcoholic, Daddy's bibber, Der biertrinker, Happy little boozer and Drink drank drunk.
Our hotel is particularly distinguished by its aesthetic features, from walls exuding art of the highly prized team of artists to its beautiful and spacious ambience. As a small hotel, our mission is to achieve the maximum pleasure of every guest, which is why we believe that the size is our greatest strength.


There is a beerhouse within the hotel offering the best Austrian sausages, as well as a wide range of beers with different texture. In addition to this inseparable combination of beer and sausages, we are offering the menu with contents which complement the meals, intended for all of those who know how to recognise quality and excite the senses. As a multi-purpose space, our hotel will meet Your expectations and even exceed them. Our staff will make sure that your visits become habitual.